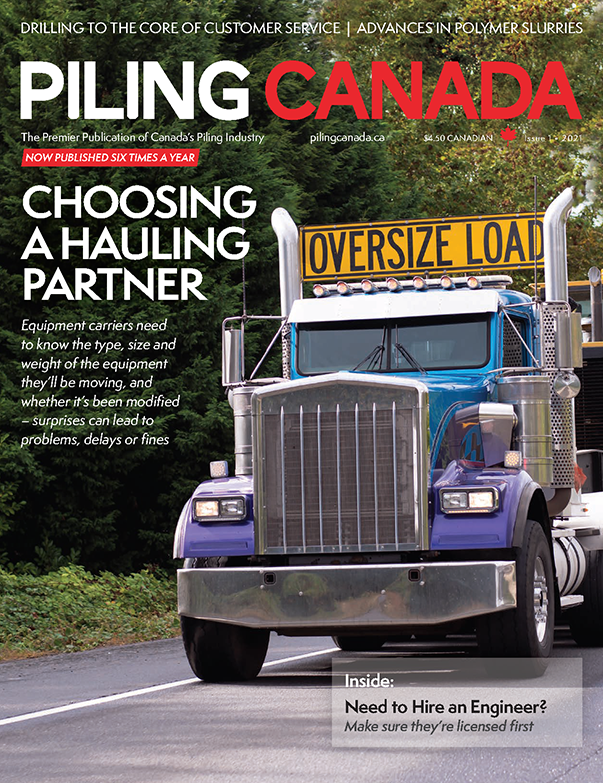 Piling Canada is the premier national voice for the Canadian deep foundation construction industry. Each issue is dedicated to providing readers with current and informative editorial, including project updates, company profiles, technological advancements, safety news, environmental information, HR advice, pertinent legal issues and more.
Piling Canada is published bimonthly in January, March, May, July, September and November . Each issue is mailed directly to more than 2,100 proffessionals involved in the Canadian deep foundation construction industry; as well, the magazine reaches key contacts both in the U.S. and across the world. Using the standard publishing industry pass-along estimation of 3.5 readers per copy, Piling Canada has a total market reach in excess of 7,300 each issue.
In addition to the print edition of the magazine, Piling Canada is available in a digital format that can be viewed on your desktop/laptop computer, tablet or smartphone. This online companion to the tradition print format has all the content you have come to expect from the premier publication of Canada's piling industry, plus the visual enhancements that make a digital magazine a rich and immersive reading experience.
Piling Canada is read by:
Contractors and subcontractors specializing in deep foundations
Geotechnical and civil engineers
Equipment and materials manufacturers and suppliers
Representatives from all levels of government
Other individuals involved or interested in all aspects of deep foundation construction
2022 Editorial Calendar
If you have thoughts or ideas relating to the magazine or any of the themes below, please contact Lindsay Risto, editor of Piling Canada, to discuss. She can be reached at 866-953-2189 or This email address is being protected from spambots. You need JavaScript enabled to view it.. Please note that themes and dates are subject to change.
| | | | |
| --- | --- | --- | --- |
| Issue | Theme | Space/Material Closing Date | Distribution Date (Print & Digital) |
| Issue 1, 2022 | Industry Trends | Dec. 10, 2021 | January 2022 |
| Issue 2, 2022 | Great Canadian Projects Issue | Feb. 18, 2022 | March 2022 |
| Issue 3, 2022 | Environmental Sustainability | April 15, 2022 | May 2022 |
| Issue 4, 2022 | Business/HR Issue | June 10, 2022 | July 2022 |
| Issue 5, 2022 | Cybersecurity and Technology | Aug. 19, 2022 | September 2022 |
| Issue 6, 2022 | Worker Safety | Oct. 14, 2022 | November 2022 |