Page 1 of 3
By Barb Feldman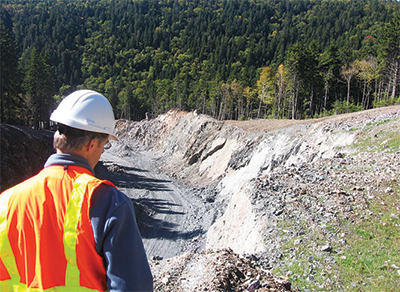 GEMTEC was formed in 1986 in New Brunswick as a geotechnical engineering, materials testing and hydrogeology firm by three geotechnical engineers. Today, the Canadian-owned-and-operated consulting company has a combined team of more than 120 engineers, scientists, technical personnel and support staff, including one of its original founders, Daryl DeMerchant, who continues to work as a specialist consultant.
"GEMTEC stands for 'Ground Engineering and Materials TEChnology,'" said engineer Dave Purdue, GEMTEC's manager of geotechnical engineering. "We have particular expertise in driveability assessments and Pile Driving Analyzer (PDA) testing related to driven foundations."
The company has offices and laboratories in Fredericton, Moncton, Bathurst, Grand Falls and Saint John, New Brunswick. They specialize in site investigations, foundation design, pile driving analysis and inspection, slope stability assessments, excavation and earthworks, dams and retaining structures and have evaluated foundation conditions for commercial and industrial buildings, dams, pipelines, highway bridges, railways, power plants, industrial plants, mines and waste facilities. GEMTEC subsidiary Houle Chevrier Engineering Ltd., with offices in Montreal and Ottawa, provides specialist services in geotechnical engineering, materials testing and inspection, hydrogeology and environmental engineering.
GEMTEC has been involved in projects in the U.S., the Caribbean and the EU, but the majority of its work has been for the design of deep foundations throughout Atlantic Canada and from Newfoundland to NWT, says Purdue, who notes that most piling in Canada is driven, particularly in Eastern Canada.
{fastsocialshare}