Page 1 of 4
By Richard Armstrong
This article was originally published by Pile Buck magazine.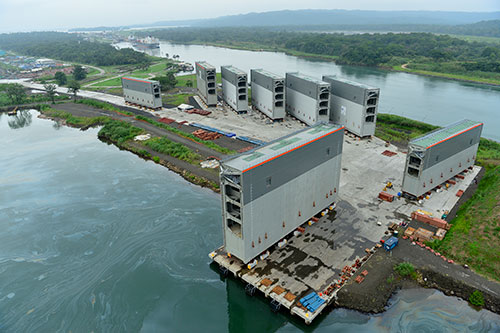 The Panama Canal was first opened in 1914 as a bridge between the Atlantic and Pacific oceans. By allowing ships to skip the long, treacherous trip rounding Cape Horn, it cut shipping times down exponentially. But a century later, much has changed in both shipping and canal construction. As it was originally built, the canal isn't big enough to take many of today's vessels. To stay viable amid tight competition from quicker and cheaper alternative routes, the canal has been undergoing a major upgrade since 2007. The Panama Canal Expansion project will take eight years and cost over $5 billion before it is completed in 2015. As of April 2014, the project is 79 per cent complete, though due to delays there are concerns it won't be finished until 2016.
The project aims to improve the canal in a number of ways. The navigation channels will be dredged on both the Atlantic and Pacific sides, as will the channels in Culebra Cut and Gatun Lake. This will enable the canal to accommodate vessels with deeper drafts than it can presently take. New, larger Post-Panamax locks will be built on both entrances to the canal. These are the so-called "Third Set of Locks." A completely new channel will be excavated on the Pacific side, north of the Third Set of Locks, which will connect the new locks to Culebra Cut and Gatun Lake. And finally, the canal's water supply and draft dependability is going to be increased.
{fastsocialshare}