Page 2 of 3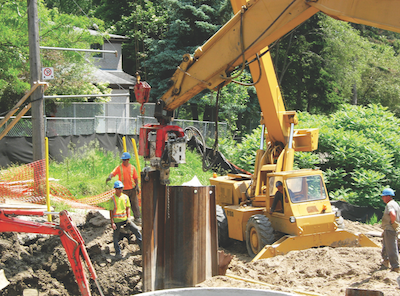 Uplifting experience
New to both ECA and ECA Canada is the introduction of a new line of Bauer Foundation Cranes.
"The first crane, a MC96, has already arrived in the U.S. at our Philadelphia branch with a lift capacity of 130 metric tons. This will open up a whole new market expansion for our company and at the same time, help our customers fill the existing void that currently exists in the heavy duty foundation crane market," said Ben Dutton, ECA Canada's executive vice president of sales and marketing. "Providing customer solutions is a primary focus of our mission and goals, and adding cranes to our repertoire helps us meet this challenge."
Deep thinkers
"ECA and ECA Canada benefit from Bauer's world-wide experience," noted Kemppainen.
Bauer, based in Germany, is an engineering innovator. Their combined cutter and soil mixer saves both time and money. Their innovation also extends to areas such as underwater drilling. In 2011, Bauer Renewables Ltd. and Bauer Spezialtiefbau GmbH, the parent company, were part of a project to install monopile foundations for a tidal turbine off the coast of Scotland. Kemppainen notes that ECA and ECA Canada also benefit from their relationship with companies like Bauer and Klemm due to their global network of suppliers.
Home sweet home
ECA Canada is now putting down roots in Uxbridge, a township 40 kilometres (25 miles) northeast of the City of Toronto. The company's new facilities opened for business on Dec. 17, 2013. Their former location was based in the northern end of Toronto, where the company set up shop in 1958. Over time, the neighbourhood changed from an industry-friendly space into a retail and commercial environment.
"The logistics of getting large equipment to/from and in/out of our yard was becoming increasingly difficult. The facility itself couldn't support the work we perform on the large drills; we were working outside in the yard most of the time," said Kemppainen.
While ECA Canada's home has moved, its heart is still in the company's employees. Roy Kern, president of ECA Canada, has a long association with the company. His grandfather worked for ECA in the 1920s and later acquired controlling interest in the company. ECA Canada currently has a staff of 14 that handle sales, administration, service and parts.
Built by Pioneer One Steel Buildings and Rockwood General Contractors Ltd., the new 12,000-square foot (1,114.8 square metres) facility has a 2,000-square foot (185.81 square metres) space dedicated for parts as well as a heavy-duty floor built for extreme weight.
{fastsocialshare}