Page 3 of 3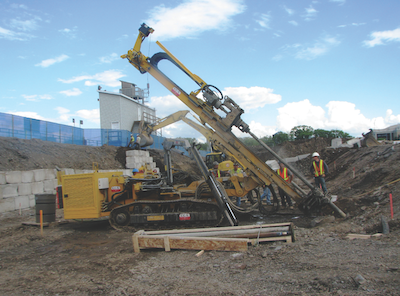 "Our new location in Uxbridge Township was chosen because it is in an existing industrial park and the logistics of moving the equipment is much better," explained Kemppainen. "We now have four acres of room to store equipment, tooling, casing and related accessories. Our workshop can accommodate working on the large equipment inside, complete with a new 25-ton overhead crane."
Being located in Uxbridge also means that employee commute times are shorter.
"Our employees no longer have to deal with the stress of Toronto's infamous traffic, and that has been very beneficial to [us all]!" added Kemppainen.
ECA Canada's new facility will enhance the company's ability to provide its diverse services, such as rentals, sales, service, parts, tooling and supplies for their line of heavy foundation construction equipment.
"[The range of products includes] everything from equipment for drilled piles, driven piles, vibrated piles, displacement piles, CFA piles, tie-back anchors, micropiles, high pressure grouting, foundation cranes, hydraulic grabs, cutters, soil mixers and cutter soil mixers," Kemppainen said. "We also can provide the latest in foundation construction methods and technologies. With the combined resources of our American branches and manufacturers to draw upon, we have many, many years of experience in the foundation construction equipment business, and a large rental fleet to offer to our customers."
Building momentum
The Canadian market, according to Kemppainen, "was strong in 2011 and 2012. They were record years for ECA Canada. [In contrast,] 2013 was a little slower but still steady. With some major projects still on the go or on the horizon, such as the TTC Eglinton LRT, the proposed TTC Scarborough subway expansion, some major work required in Montreal and continuing work in Western Canada, we're looking forward to another great year in 2014 and beyond. Our Canadian foundation contractors are also starting to embrace the newer foundation methods and technologies that we can provide, thereby expanding their repertoire."
Not resting on any laurels, ECA Canada is looking to add more feathers in their cap with plans for the future.
"Markets we are looking at in the future include developing new foundation construction methods and technologies and introducing them to the market in Canada," said Kemppainen. "Bauer, for example, is foremost in developing these new methods and equipment to perform these new methods. While the tried and true methods are still widely used in Canada and work well, some of the new processes can save our customers time and money and still achieve a better product in the end. We want the industry in Canada to become one of the world leaders, not followers."
{fastsocialshare}