Fraste's move into Canada signals new capabilities for the foundation sector
By Kelly Gray
Fraste SPA Italy is a company born from tradition. Back in the 1960s, the company's founder, Benito Fracca, followed the family's vision of benchmarking products that offered tremendous utility. Launching his mechanical workshop in 1964, Fracca looked to the traditions of his family and the historic forge they operated in
Maccacari near Verona, where his family made much-needed hard goods for the town. Today, Fracca's enterprise is an Italy-based leader in innovative equipment manufacturing.
From the outset, Fracca believed he could take the tradition of his father's village forge to a higher, more precise level and build in a more modern context. Joining forces with the Stefanini family, they formed Fraste (the company name is a blending of the two family names), a mechanical workshop dedicated to precision engineering with pioneering products.
"They began with the construction of some small agricultural machineries, with hydraulic operation," said Fraste's foundation division sales expert, Pierluigi Sanchi, who says that hydraulic was still a very big unknown at the time.
Today, Fraste has earned a solid international reputation for quality, performance and innovation with a line of drilling products for applications from water wells to geothermal and geotechnical work as well as mineral exploration and foundations, an important growth sector of their trade. According to Sanchi, Fraste's Foundation Series, MITO, offers a wide range of drill rigs dedicated to foundation works such as micro-piles, tieback anchors, jet grouting, soil nailing and consolidation works, in general.
"Fraste offers several models of hydraulic multipurpose drilling rigs that are able to completely perform all types of small and medium ground engineering drilling works," he said, adding that MITO models can operate with all known techniques and methods of drilling, thanks to their extreme versatility and available configurations.
"All Fraste drilling rigs are equipped with advanced hydraulic circuits and with innovative solutions, which allow the installation and use of a wide range of rotary heads, hydraulic drifters, double rotary systems, water and mud pumps and are able to perform any type of rotary and rotopercussion drilling," said Sanchi. "Starting from smaller sizes and weight, our foundation rigs includes models from four tons/8,818 lbs. up to 23 tons/48,500 lbs. As well, our hydraulic drilling rigs come with separate power packs that are specifically designed for the execution of ground engineering works in confined or low overhead spaces inside buildings, basements and small tunnels. Bigger hydraulic drilling rigs are able to perform with high torque up to 24,593 ft. lbs., or 23 metres/72 feet in a single passage with all the grouting parameters (optional). And, the MITO series is fully radio controlled for safe operation on the job site and for high productivity."
The radio control provides greater safety when loading and unloading. Safety is key to Fraste's success; all of Fraste's drilling rigs are equipped with safety devices that work to guarantee the safest working conditions to operators and other personnel.
Sanchi says that the Fraste team is especially proud of the new model, MITO 8. This model was conceived and designed by the Fraste foundation division staff, a group with decades of experience considering unique needs on the job site. The concept for MITO 8 is to create a drilling rig with small size, dimensions and weight, but with performances comparable to rigs that are considerably larger in weight and size.
"We have a lot of new projects on the drawing table. At the moment, we are working on the new 23-ton multi-purpose drilling rig, named. MITO 100."
- Pierluigi Sanchi, Fraste
Canadian market
Fraste is now making inroads in the Canadian market with its high-capability signature drilling and foundation equipment. To get the product to market, Fraste turned to Edmonton-based MARL Technologies Inc., an innovative solution leader in the drilling sector. Since 1977, MARL has been working some of the most challenging sites in world, from the remote Arctic to seabeds to tough urban environments.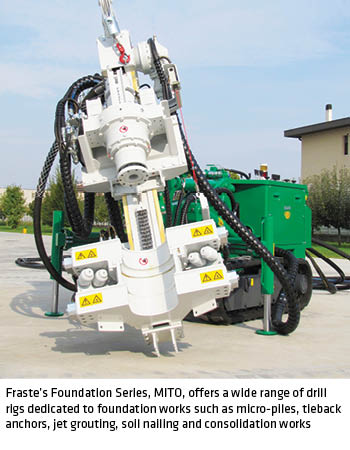 Sanchi says the Canadian market shows a need in that contractors are looking for small-medium drilling rigs and medium-large drilling rigs capable to drill both with a traditional system as well as with a double rotary system.
"Sometimes, [contractors] operate with drifters in order to work with tieback anchors or soil nailing, and quite often, they use the revolver loader for casing and rods. At the moment, we can offer to the Canadian market drilling rigs of about 16 tons that can be set up for tieback anchors. Shortly, we will introduce a new drilling rig of about 23 tons. On this rig, it is possible to install an innovative revolver loader for casing and rods at the same time (optional) and have a crane on board. This drilling rig will be fully radio-controlled and will be driven by a very powerful Caterpillar Tier 4 engine – all MITO drilling rigs are equipped with Caterpillar Tier 4 Final engines – that places this new drilling machine at the top class."
Located in the small industrial centre of Nogara, Fraste's highly skilled team is moving rapidly forward at their 14,000-square-metre, state-of-the-art manufacturing centre.
"We have a lot of new projects on the drawing table. At the moment, we are working on the new 23-ton multipurpose drilling rig, named MITO 100," said Sanchi, inviting people to stay tuned as they ready this exciting development for world premier.
"One thing is clear for our near future. We are working very hard to be the world benchmark for multipurpose drilling rigs for foundation work, as well as for the water well and geotechnical sector. We have skills and adequate experience to offer products with high quality and productivity," he said.