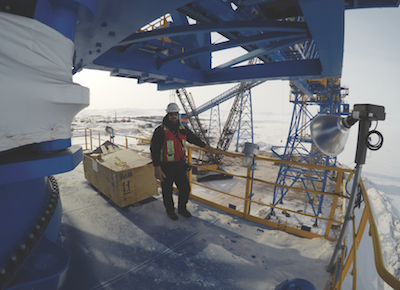 Describe your current job.
I am the project manager at Ruskin Construction. The project I'm currently on involves the widening of the Paul Lake Bridge at the Ekati Diamond Mine in the Northwest Territories. The work we're doing includes the installation of new bin walls, footings, girders and concrete deck.
What are your areas of responsibility?
My areas of responsibility include project management, contract management, change management, project scheduling, logistics and project planning.
How did you get to where you are now?
I started my career as a bridge carpenter working on projects through British Columbia. I progressed, relatively quickly, from a carpenter to site foreman, site superintendent, estimator and now project manager. The last large-scale project that I managed was the Iron Ore Loading Dock for Baffinland Iron Mines in Milne Inlet on Baffin Island, which was substantially completed in mid-2015. The project was a design-build, and due to its extremely remote location, it presented many technical and logistical challenges. [Editor's note: Read about Ruskin's work on the Iron Ore Loading Dock project in Q2 2015 of Piling Canada here.]
Other projects I have worked on include:
Deh Cho, Makenzie River Bridge – Close Out (manager/site supervisor, Ruskin)
North West Stave, Run of the River Power House and Weir (project manager, Camwood)
Finning Maintenance Facility, Fort Mackay (project manager, Camwood)
What do you love about your job?
My favourite aspect of my job is the fact that every day is different with new challenges and tasks. I enjoy dealing with the challenges brought by Arctic construction, from the planning and logistics to the obstacles that come from the design and constructability. This career has given me the opportunity to work with professionals in all aspects of our industry, which has been a fascinating and ongoing learning experience.
What does a typical day look like for you?
My days are always different. Largely, I work with Ruskin's engineering team to develop cost-efficient, construable designs, and I work with our project planning team to ensure the efficient execution of each job. I also work extensively with clients and our in-house estimating department to secure upcoming projects throughout Western Canada and the Arctic. Client relations and contract management are also huge components of what I do. Working with Ruskin, we have a great professional team that keeps each day exciting.
What are the challenges you experience in your job?
This industry lets you work with people from all walks of life with varied background and experience. It's an interesting challenge to find the best way to work proactively together to achieve the same goal.
What are your future goals?
I'm looking forward to continuing my growth within the construction industry. I love to build interesting and challenging structures, so I will continue to pursue projects that keep me engaged, while continuously advancing my skills and education.
What are your predictions for the future of deep foundation construction in Canada?
For myself, with the Canadian Arctic opening up to mining, and public sectors expanding in these regions, I hope to be constructing in this beautiful and remote area for years to come.
Fast facts
First job: Commercial fisherman
Childhood ambition: Own my own commercial fishing boat
Favourite food: Any Mexican food
Last book you read: Misbehaving – The Making of Behavioral Economics by Richard H. Thaler
Dog person or cat person: Dog, for sure – pit bull terrier
How you spend your time away from work: Rugby, motorbikes, wake-surfing, mountain sledding and spending time with my girlfriend
Apple or Android: Either
Best advice you've ever received: This was given to me by one of my first bosses in construction: "Never stop learning and never dismiss someone's ideas, no matter their position."
Connect
LinkedIn: www.linkedin.com/in/danny-homeniuk-8600306b
Company website: www.ruskinconstruction.com